Since 1977, Jimmy Clifford has been building the highest quality modifications to residential structures in New Jersey. The concept of "from idea to reality" is what drives him to conceptualize and ultimately complete the kinds of projects that other builders would claim "can't be done". It is his open-minded approach to all phases of construction that has satisfied countless clients over three decades and spawned a network of homeowners more than happy to recommend his services.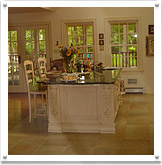 Growing up and living in New Jersey has given Jimmy a keen sense of the possibilities within, and outside of, the accepted limits of design and execution. Possessing an eclectic array of architectural styles and influences, the neighborhoods of New Jersey serve as a palette for each new project he undertakes. Fusing traditional, classic designs with the best quality materials yields aesthetically appealing and structurally sound end products.
A natural perfectionist, he does not do things halfway, and will utilize his vast knowledge of past projects as well as a willingness to move in new directions to help you achieve your unique, individual vision for your home.